A Focus on Family; A Commitment to Career
Updated: Feb 15
Anyone?
Being the mother of two athletic boys, and a Human Resources professional serving a staff of over 1500, I am relating to the above. Furthermore, I am relating to those of you who are putting your careers on hold while caring for your children. I did the same a few years ago. And even prior to that, there was a time when I was committed to my career without having the responsibility of a family.
Presently, I am focusing on my family while pursuing a career. Hence, my perspective is solely based off real-life experience. I am also aware that many mothers are facing similar situations who are finding my experience relatable.
For anyone doubting, I am assuring you that it is feasible to have a thriving family and career simultaneous. Nevertheless, I am also acknowledging that the experience is demanding and no easy undertaking.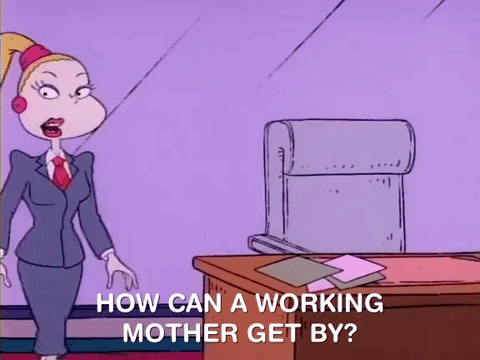 Personally, my employer and subordinate staff are crystal clear in knowing who my heart is beating first and foremost for; and that is my family. As a result, I am a natural at making guilt-free decisions that I believe are within the best interest of my family.
In this space, we are learning from each other as we share a common commitment to our careers while focusing on our families. Also, we are showing up and finding fulfillment in being who we are as moms, employees, business owners etc. Hence, I am welcoming open-dialog and candid conversations about being the best versions of ourselves.
As women, we have been blessed with a naturally nurturing streak and are consistently meeting the emotional needs of our families. However, ideally, emotional needs are better met after physical needs have been satisfied. How then can a working mother get by?
Unconventional Definitions of Family
One definition for family is "a group of two people or more related by marriage, blood relation, or adoption and who live together." Besides this formal definition, the word family evokes different thoughts for different people.
For some people, family is the mother and father who are responsible for bringing them into this world and the sibling they grew up with. For others, family consists of the spouse they married, and the children produced. And yet for others, family is simply the people who they choose to call family. Hence, while home is where the heart is; family could be who we choose or consider them to be.
A wholesome family is a haven where we feel belonged, appreciated, valued, affirmed and loved. They are the people not with whom we are always agreeable but with whom we share mutual understanding; are accepting of each others humanness, and forgiving of imperfections. They are the people with whom we are actively, consciously, and intentionally respecting, while giving and receiving love. Our families are the people who are worth our sacrifices and our risks taking as they help us to live for a cause greater than ourselves.
The Importance of Prioritizing
How then can we be focusing on family while actively pursuing our careers simultaneously? After all, when our family circles include babies and young children, the dynamics gets even more demanding. Most will agree that caring for young children is a fulltime undertaking.
When I became a first-time mom and having recently received a promotion, I was hesitant to take adequate time off from work to bond with my new baby. Concerned that my employer may begin to question my loyalty to the organization and guilty that I would be leaving my colleagues with my share of work to complete, I went back to the workforce much sooner rather than later.
However, by the time I went on maternity leave for my second child, I knew better and did better at prioritizing the needs of my family first. I was deliberate in my planning to take time off and duly utilized the opportunity of extended leave to bond with and care for my newborn and my then 2-year-old. As it turns out, that time with my kiddos where I was fully present and solely focus on caring for them is still one of the most rewarding and memorable times for me as a mom.
Thankfully, I prioritized and could afford a more reasonable time off the second time to care for our kids while my husband worked. There was also a time when I worked fulltime and my husband became the primary caregiver while he simultaneously completed graduate school, upon leaving the military. I leaned that it is necessary to identify where you are at in life and assess your resources and needs prior to making any major decision.
Prioritizing the important people in our lives and making decisions that best caters to them is a must. In addition, time is a limited resource. Therefore, not trading our time for money is oh so necessary. Equally necessary is earning or producing sufficient money that supports our families ideal quality of life and lifestyles.
Being a Beacon for Those Who Needs Your Light the Most
In my Human Resources Manager's role, I am consistently utilizing the various opportunities that presents themselves for guiding my staff. We frequently discuss bridging the gap between families and careers. I am quite fortunate to have a team whose dedication and strong work ethic shines through, and there is evidence of pride in the work that they are doing.
Nevertheless, these are also some of the same staff who quite often are spending their weekends and late nights working. Oftentimes, their overextending at work comes at the detriment of their family time, relationships, health, and overall well-being. Hence, I am consistently having frank discussions to the nature of: How are we measuring what it means to be giving our best at work versus giving our all with nothing left for family?
While I am big on applauding the phenomenal work that my team is doing, I also utilize every opportunity to encourage them to ensure they are designating and spending intentional time with their families. Also of great discussion is identifying ways how work can be reallocated and reprioritized to not encroach on personal or overtime. Most definitely each member of my staff is bringing great value to our organization, however I am always very being mindful of the true cost of that value.
Are you bringing value to your employer at the expense of your family? Are you passing on opportunities for creating memories and moments with your family, while being the first to volunteer and take on extra assignments? Do you seldom miss a work deadline but is often missing from special events honoring your child at school?
How then can we balance establishing a culture of being intentional with our families, without diluting our work output and commitment to our careers? Undoubtedly, allocating time for family and career warrants careful planning, and strategic executing of said plan.
Choosing our Careers with Intentionality
Granted, our lives and livelihood are interdependent. Hence, whether being self-employed or working for someone else, having a reliable source of meaningful income is as essential as breathing. There are some factors worth considering when selecting your ideal type of career, including: Qualification, family commitments, and financial obligations. In future articles, I will be offering insights for choosing a career that is ideally compatible with YOU.
We are empowering women of worth and I believe that our journey together is destined to be an impactful and transformational voyage.